Hello to all Piano Salsa fans and music lovers!
Today we present a new video tutorial, the song: CACHONDEA by Cheo Feliciano. Song that adds to the REPERTORY of BASIC LEVEL. In this tutorial we will learn how to play this iconic salsa song, performed by the legendary Puerto Rican singer Cheo Feliciano. The song is part of his album "Cheo" released in 1971, and has become a salsa classic, which has endured over the years. The song is known for its catchy rhythm and upbeat lyrics that invite you to party and dance.
Theme: CACHONDEA by Cheo Feliciano
Duration: Approximately 15 minutes
Difficulty Level: Basic/Intermediate
Material: MP3 file, PDF score all downloadable.
Tutorial Description: In this exciting tutorial, we will guide you step-by-step through the interpretation and analysis of the song. We will learn the chords, characteristic rhythms and left and right hand patterns to achieve that authentic fast salsa sound on the piano.
Are you ready to get started?
You'll find this tutorial in both the Basic Level and All Repertoire modules. Remember, if you are not yet part of the Piano Salsa student body, we encourage you to join, enjoy, keep learning and play the songs you've always wanted to play.
Musical greetings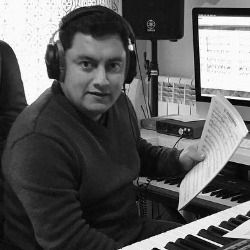 About

Rafa Madagascar

Hello, I am Rafa Madagascar, with more than 25 years of professional career as a pianist, producer, composer and arranger, here I present: PIANO SALSA A platform where I expose all my learning experience and musical career, dedicated to all those people who, regardless of their age or musical level, want to learn to play montunos, harmony, accompaniments, rhythms, and all those songs that they have always wanted to play.