Greetings friends, followers of Piano Salsa! Today we present a new video tutorial, the song: EL CAMIONERO, popularized by Frankie Ruiz y su Orquestra.
The most popular version in Colombia is the salsa version, but the origin of the song is said to have been written in the 60's by a Country composer. The original title is 'Gentle On My Mind' (Suave En Mi Mente). Among the best-known versions are covers by major music figures such as Frank Sinatra and Elvis Presley, Glen Campbell. In 1984, this song became popular in Latin America, thanks to a ballad version by Brazilian singer-songwriter Roberto Carlos. The artist recorded the Portuguese version of the song, 'Caminhoneiro', the song was so successful that the singer even recorded a Spanish version. Now, the version known in Colombia and in the world of salsa, was the one made by Frankie Ruiz the following year (1985), who recorded a cover in salsa of the Spanish version of the singer Roberto Carlos.
Source of info: Héroes del Timón, Wikipedia, History of salsa.
Theme: El camionero
Length: Approximately 25 minutes
Level of difficulty: Intermediate
Material: MP3 file, PDF score all downloadable
Tutorial Description: In this comprehensive tutorial, we will guide you step-by-step through the interpretation and analysis of the song. We will learn the chords, characteristic rhythms and left and right hand patterns to achieve that authentic salsa sound on the piano.
Are you ready to get started?
You will find this tutorial in both the Intermediate and All Repertoire modules. Remember, if you are not yet part of the Piano Salsa student body, we encourage you to join us, to enjoy, keep learning and play the songs you've always wanted to play.
Musical greetings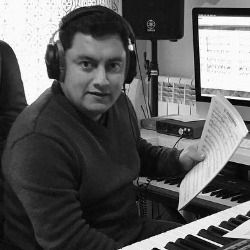 About

Rafa Madagascar

Hello, I am Rafa Madagascar, with more than 25 years of professional career as a pianist, producer, composer and arranger, here I present: PIANO SALSA A platform where I expose all my learning experience and musical career, dedicated to all those people who, regardless of their age or musical level, want to learn to play montunos, harmony, accompaniments, rhythms, and all those songs that they have always wanted to play.