Welcome to the new PianoSalsa website
We are launching the new PianoSalsa website, a site where you will find in detail all the courses available, complete information about all the available courses, complete information about contents, etc. Moreover, in our new section "News" , we will periodically publish articles, news and didactic information of great interest, as well as the new as well as new courses, new tutorials and much more.
What is Piano Salsa?
PIANO SALSA is a learning platform where each student can
acquire the piano course that best suits his or her needs.
There you will find more than 450 videos available, with lessons, tutorials and content designed to learn to play salsa on the piano. The videos are recorded in high quality image and sound, and you can watch them as many times as you want, with no limit of reproductions. The platform is organised into 3 learning levels, BASIC, INTERMEDIATE and ADVANCED. Each level has 4 main blocks of content: THEORY, PRACTICE, MONTUNES and REPERTORY. In each one you will find exclusive material to learn and practice.
Most of the videos have a downloadable PDF file where you will find scores or summaries of the you will find scores or summaries of the content of each class.
In the THEORY section, you will find explanations with a wide range of topics, ranging from harmony harmony, scales, technical resources applied to salsa, forms and structures, analysis and much more. structures, analysis and much more.
In the PRACTICAL section, you will be able to train your fingers with all kinds of exercises, "play alongs, exercises for rhythmic independence, exercises to learn chords, harmonic progressions chords, harmonic progressions, accompaniments and also to practice with famous montunos that will help you to develop fluency and speed.
In the MONTUNOS section, you will find videos with didactic explanations where you will learn montunos construction, accompaniments, and you will also see examples with all kinds of rhythms, including the "Son Tradicional", "Son Guajiras", "Guarachas", "Descargas", "Pachangas", "Timba" and many more.
In the REPERTORY section, there is a wide variety of songs classified according to your according to the level you are at. All of them are accompanied by a complete tutorial, the score transcribed note by note, and the backing track or mp3 track for practice.
The student can progress according to his or her own pace of study.
study freely or follow a recommended STUDY PLAN, in order to learn with an organized order and an organised structure.
The most interesting thing about PIANO SALSA is that each month new material is published, and the material is published every month, and the content is progressively expanded, so that the curriculum is the syllabus is complemented, also at the request of the students themselves, who can make suggestions and recommend new songs and training exercises. An additional pack called IMPROVISACIÓN EN LA SALSA, designed for pianists, or instrumentalists interested in venturing into the world of soloing and creating and the creation of melodies in real time. This pack also contains more than 300 mp3 bases to practice, with all the indications so you can study as if you were in a combo, ensemble or you were in a combo, ensemble or orchestra without leaving home.
Learning to play the piano is no longer an unattainable goal, but rather an exciting journey that is within everyone's reach thanks to platforms like PianoSalsa.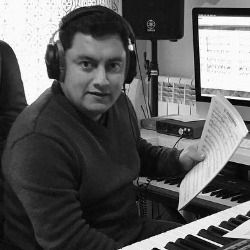 About

Rafa Madagascar

Hello, I am Rafa Madagascar, with more than 25 years of professional career as a pianist, producer, composer and arranger, here I present: PIANO SALSA A platform where I expose all my learning experience and musical career, dedicated to all those people who, regardless of their age or musical level, want to learn to play montunos, harmony, accompaniments, rhythms, and all those songs that they have always wanted to play.