The Spanish influence in Cuban music, and Afro-Latin music (including all the Caribbean countries), came from the Spanish guitar, as well as the bongos that arrived from North Africa, the maracas (one of the few native indigenous instruments), and a type of guitar imported by immigrants from the Canary Islands, which had 3 double strings called "Timple". Not to confuse instruments, there is also "El Cuatro" from Puerto Rico, and "El Cuatro" from Venezuela, "El Charango" from the Andes, as well as "El Tiple" in Colombia. They all have similar sounds, but they are not the same. Surely the grandfather of all these instruments was the "Spanish Vihuela" which was very popular in the renaissance in Spain and Portugal around the 16th century.
The "Tres" appeared in the rural areas of northern Cuba, and became popular from the end of the 19th century, used in folkloric genres such as the Changüí and the Son whose roots come from the Nengón and the Kiribá of Baracoa, among others. There are references to this instrument in the "campaign diaries" from 1868, during the wars of independence when "guateques campesinos" were held in the Cuban countryside, which was used to entertain the Mambi troops.
It is basically a modified guitar with six strings divided into three double lines. Some ethnologists argue that this instrument is not a Cuban invention but already existed in medieval Spain.
It is important to recognise the importance of this instrument in order to understand the role of the piano in salsa.
Its beginnings date back to 1816, when the French pianist Juan Federico Edelmann, considered the "father of pianistics in Cuba", inaugurated the Academia Santa Cecilia. During those first decades of the 19th century, pianists of Italian and Spanish origin settled in the country and, although they were not professionals, they went out and devoted themselves to teaching. Some taught in that institution and others taught informally in their residences.
The piano in its beginnings tried to imitate the rhythmic figures and guajeos of the tres, but little by little it evolved by adding melodic lines with two voices, arpeggios and block chords, as well as octaves and an endless number of rhythmic and harmonic possibilities.
By 1920, popular music in Cuba consisted of sextets with: tres, guitar, double bass, bongos, and two singers who played maracas and claves. Later on, the septet appeared and added the trumpet.
It was probably Arsenio Rodríguez who first recorded a new format in the 1940s that included piano and congas, as well as multiple trumpets. Creating a new format called conjunto típico. This is the first time that the piano starts to be part of the groups and ensembles playing Cuban rhythms.
Playing complete chords with several voices was not easy for a tres, so the piano gained prominence for its countless possibilities.
While all this was going on, the piano was already a very popular and fundamental instrument in jazz big bands in the United States, and it was also beginning its incursion into tango in Argentina. It was here to stay and to consolidate itself as the leader of harmony and the basic instrument for composition and arrangements.
THE FIRST PIANISTS in Cuban music
– Manuel Samuell Robredo (1817-1870): Cuban pianist, then Spanish, specialised in Spanish contradanzas and the adaptation of operas. He played the piano in churches, wrote reviews in the press and gave lessons to people close to him. The music conservatory in Havana was named after him. In some of his contradanzas, the rhythmic keys of the Cuban popular music of the 19th century appear for the first time.
– Ignacio Cervantes (1847-1905): Born in Havana. Considered the most important influence on Cuban music in the 19th century. A child prodigy, he studied at the Paris Conservatoire. Expelled from the island for having performed concerts to raise money for the separatist cause, he went to the United States where he developed his musical career, writing operas, chamber symphonies, zar-zuelas and his famous Danzas Cubanas. He used his music as a weapon of struggle, showing a nationalist sentiment.
– Antonio María Romeu Marrero (1876-1955): Born in Jibacoa, Cuba. Cuban pianist, composer and orchestra conductor. Specialised in the performance of danzón, he led the charanga genre for more than 30 years. He was invited to play in the "Orquesta Cervantes", one of several charanga groups founded at the beginning of the 20th century, the first known group to incorporate the piano into Cuban popular music. He founded his own orchestra in 1910. He wrote more than 500 dan-zones. Some were originals and others adaptations of existing works. His most famous work was the danzón "Tres lindas cubanas", an arrangement of an old song.
– María Cervantes (1885-1981): Born in Havana, she was a pianist and composer, daughter of Ignacio Cervantes.
– Ernesto Lecuona, Ernesto Sito de la Asunción Lecuona Casado (1895-1963): Born in Guanabacoa, Cuba. He gave his first recital at the age of 5, and at 13 he wrote his first composition. After graduating from the National Conservatory in Havana, he went to New York where he studied with Maurice Ravel. He is considered one of the most outstanding Cuban musicians. He made a great contribution to zarzuela and orchestral composition.
– Ignacio Jacinto Villa Fernández, "Bola de Nieve". (1911-1971) Born in Guanabacoa, Cuba. A singer, composer and pianist, he internationalised Cuban popular music all over the world thanks also to his appearances on television and radio.
– Anselmo Sacasas (1912-1998) Manzanillo Cuba, was a bandleader, composer and arranger. As a pianist he took inspiration from the Cuban thirties like Arsenio Rodriguez adapting it to his language as a soloist in Cuban music orchestras.
– Pedro Nolasco Jústiz Rodriguez, "Peruchín". (1913-1977). He was born in Holguín, Cuba. He began his artistic career with the "Orquesta de Chepin" in 1933. He was a member of orchestras in Havana. He worked with his group at the Cabaret Tropicana. His piano solos were very popular and admired and were recorded on several records. He also worked as an arranger and orchestrator for Benny Moré's orchestra.
– Lino Frias, Ezequiel Lino Frias Gomez (1915-1983). Born in Matanzas, Cuba. He was a great composer, founded the group "Son de la Loma" and worked with "La Sonora Matancera". One of his best known compositions is "Mata Siguaraya".
– LilÍ MartÍnez. Luis Martinez Griñan (1915-1990). Cuban pianist specialising in son montuno, he worked with Arsenio Rodriguez and the Conjunto Chappottín. He participated in the development of the modern piano style in the 1940s. He has been a great influence on pianists such as Eddie Palmieri, Pappo Lucca and Larry Harlow among others.
– José Curbelo (1917-2012). He was a Cuban pianist and orchestra conductor. He played a key role in the development of son montuno and mambo, as an important figure in the "Latin" band scene in the United States.
Le piano a-t-il voulu remplacer le "tres" dans la musique cubaine ?
L'influence espagnole dans la musique cubaine, et dans la musique afro-latine (y compris dans tous les pays des Caraïbes), provient de la guitare espagnole, ainsi que des bongos arrivés d'Afrique du Nord, des maracas (l'un des rares instruments indigènes), et d'un type de guitare importé par les immigrants des îles Canaries, qui avait trois cordes doubles et qui s'appelait "Timple". Pour ne pas confondre les instruments, il y a aussi "El Cuatro" de Porto Rico, "El Cuatro" du Venezuela, "El Charango" des Andes, ainsi que "El Tiple" de Colombie. Tous ces instruments ont des sons similaires, mais ils ne sont pas identiques. Le grand-père de tous ces instruments est certainement la "Vihuela espagnole", qui était très populaire à la Renaissance en Espagne et au Portugal, aux alentours du XVIe siècle.
Le "Tres" est apparu dans les zones rurales du nord de Cuba et est devenu populaire à partir de la fin du 19e siècle, utilisé dans des genres folkloriques tels que le Changüí et le Son, dont les racines viennent du Nengón et du Kiribá de Baracoa, entre autres. On trouve des références à cet instrument dans les "journaux de campagne" de 1868, pendant les guerres d'indépendance, lorsque des "guateques campesinos" étaient organisés dans la campagne cubaine, pour divertir les troupes de Mambi.
Il s'agit essentiellement d'une guitare modifiée avec six cordes divisées en trois lignes doubles. Certains ethnologues affirment que cet instrument n'est pas une invention cubaine, mais qu'il existait déjà dans l'Espagne médiévale.
Il est important de reconnaître l'importance de cet instrument pour comprendre le rôle du piano dans la salsa.
Ses débuts remontent à 1816, lorsque le pianiste français Juan Federico Edelmann, considéré comme le "père de la pianistique à Cuba", a inauguré l'Académie Santa Cecilia. Au cours des premières décennies du XIXe siècle, des pianistes d'origine italienne et espagnole se sont installés dans le pays et, bien que n'étant pas des professionnels, ils se sont consacrés à l'enseignement. Certains enseignaient dans cette institution et d'autres de manière informelle dans leurs résidences.
Le piano, à ses débuts, tentait d'imiter les figures rythmiques et les guajeos du tres, mais il évolua peu à peu en ajoutant des lignes mélodiques à deux voix, des arpèges et des accords en bloc, ainsi que des octaves et un nombre infini de possibilités rythmiques et harmoniques.
En 1920, la musique populaire cubaine se composait de sextuors comprenant : tres, guitare, contrebasse, bongos et deux chanteurs jouant des maracas et des claves. Plus tard, le septuor est apparu et a ajouté la trompette.
C'est probablement Arsenio Rodríguez qui a enregistré pour la première fois, dans les années 1940, un nouveau format comprenant un piano et des congas, ainsi que plusieurs trompettes. Il a ainsi créé un nouveau format appelé conjunto típico. C'est la première fois que le piano commence à faire partie des groupes et des ensembles jouant des rythmes cubains.
Jouer des accords complets avec plusieurs voix n'était pas facile pour un tres, c'est pourquoi le piano a pris de l'importance grâce à ses innombrables possibilités.
Pendant ce temps, le piano était déjà un instrument très populaire et fondamental dans les big bands de jazz aux États-Unis, et il commençait également son incursion dans le tango en Argentine. Il était là pour rester et se consolider en tant que chef d'orchestre de l'harmonie et instrument de base pour la composition et les arrangements.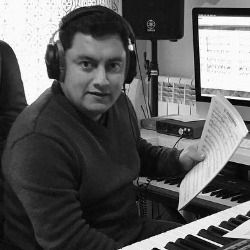 About

Rafa Madagascar

Hello, I am Rafa Madagascar, with more than 25 years of professional career as a pianist, producer, composer and arranger, here I present: PIANO SALSA A platform where I expose all my learning experience and musical career, dedicated to all those people who, regardless of their age or musical level, want to learn to play montunos, harmony, accompaniments, rhythms, and all those songs that they have always wanted to play.