Today we share a short biography of Héctor Lavoe and the song "El Cantante" Great work composed by Rubén Blades and Willie Colón, that thanks to this song, Héctor began to be known as "the singer of the singers". The lyrics summarize like few others the life of the Puerto Rican artist.
About Héctor Lavoe
Singer-songwriter and music producer Héctor Lavoe was born into a humble family on September 30, 1946, in Puerto Rico. At the age of three, he lost his mother; it would be the first of many emotional blows in the singer's life. His father, who played guitar with local trios and orchestras, gave musical instruction to Héctor, who at a very young age enrolled in the Juan Morel Campos School of Music, where he studied solfeggio and saxophone, but soon felt that singing was for him.
Trip to New York and beginnings in music (1963-1966)
Héctor had a dream of singing in New York, Héctor left for New York where he arrived on 3 May 1963 at the age of 16, where he went to live with his older sister Priscilla.
Stage with Willie Colón and his orchestra (1967-1974)
From his early days in music, Héctor Lavoe recorded a total of eleven albums with Willie Colón, including the last two albums, The Good, The Bad, And The Ugly (1975) and Vigilante (1983).
By 1988, Lavoe continued to give concerts despite his personal problems, in order to promote his Grammy-nominated album Strikes Back, which he failed to win months later.
Characteristics of his voice
A characteristic of Lavoe's voice was his natural nasality, which he did not fake when singing. Another aspect was the brightness in his voice and how clean it was: it did not sound raspy or dull. In addition, he possessed great singing strength, which gave a strong character to his interpretations. He also had a very efficient handling of his vocal register, which ranged from A2 (as can be appreciated in some live versions of "La Murga de Panamá", while playing the melody of the trombones), to A4 (which can be appreciated in the bolero "Tanto como ayer" and "La retirada"). He had a common baritone register, of two octaves, ranging from "A2" to "A4", with a tessitura that made it easy to execute his high notes. He also possessed a diction that gave him the ability to sing long, fast phrasing with great clarity and good delivery, allowing the listener to understand what he was singing.
El cantante (1978)
Here we share the song "El Cantante" Great work composed by Rubén Blades and Willie Colón, who thanks to this song Hector began to be known as "the singer of singers". the lyrics summarize the life of the Puerto Rican artist.
Information Source: Wikipedia, History of Salsa.: Wikipedia, Historia de la Salsa.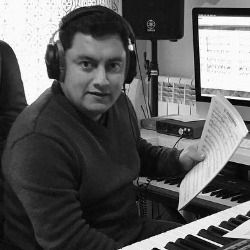 About

Rafa Madagascar

Hello, I am Rafa Madagascar, with more than 25 years of professional career as a pianist, producer, composer and arranger, here I present: PIANO SALSA A platform where I expose all my learning experience and musical career, dedicated to all those people who, regardless of their age or musical level, want to learn to play montunos, harmony, accompaniments, rhythms, and all those songs that they have always wanted to play.